15 Sep 2022
Our story with AppSumo
We want to share the experience we had with AppSumo and show a bit of the launch process we went through In this article. You will find our feedback on this launch and even learn a bit backstage from the whole adventure.
How we get to AppSumo selected campaign
Firstly, let us explain a few terms in case you don't know what AppSumo and Select Deal are.
What is AppSumo? AppSumo is the world's largest marketplace that offers online sales and digital products at a discounted price in a lifetime deal.
Last year during the fall, we got a message via our contact form from AppSumo, where they said our product is the perfect match for their Selected campaign.
However, our "select deal" path differed from the others. The standard "select deal" selection process can take up to 3-9 months. Exactly at the time when we received the first message, we were planning our BIG redesign campaign that took place during fall/winter 2021. Unfortunately, we couldn't make it at the first term AppSumo offered, so negotiations have started. Finally, we launched in June and ended in August 2022.
Why have we decided to launch on AppSumo?
We decided to take an offer from AppSumo not because we were expecting colossal revenue and were waiting to make a lot of money. Our main goal was to build a community and let people around the world support Flotiq.
It was the perfect time for us to see who our users are and where we fit in this enormous market. It is a pleasure to say that people around the world are using Flotiq.
How to prepare for the campaign?
Since the AppSumo campaign is a significant opportunity to establish contact with a broad group of new recipients and obtain valuable feedback, it is worth preparing for it as best as possible. How to do it?
The product page in AppSumo is an excellent opportunity to show your company product itself. It is where we can impress our leading customers and get valuable feedback from them.
Before the product gets this Product page, the AppSumo team gathers knowledge about the company, product features, and your story. They provide beta users to try out and test Flotiq before the launch date to give feedback since they know everything about Sumo-lings.
We received recommendations from the beta testers on the things that were missing, and after we fixed them, the launch date was established.
Then the preparation started.
You get in touch with different teams from AppSumo to prepare everything on time. Billings, marketing, content, technical preparations, so many things, but together we made everything smoothly.
To prepare the perfect product page, we went through a few steps.
We analyzed our competitors:
For the product description – it is essential to see how you should communicate to the AppSumo customers and to understand the vibe. How to show our features and present all the benefits.
Plans/Lifetime deals – probably the most challenging part. We negotiated a lot with the AppSumo team about prices and limits, but also, we wanted to see how other tools were presented there and how our competitors solved it.
Opinions, questions, reviews – what people are looking for. What do Sumo-lings like about the tool, why does the product succeed, and to create a Q&A database, as well. It was important and showed the real connection between people.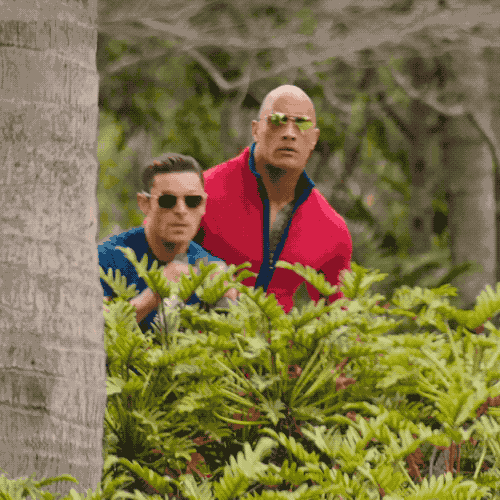 Launch date
Our product was classified as a "select deal" during the campaign, i.e., an offer specially selected by AppSumo. It guaranteed us greater visibility on the platform and intensive promotion by AppSumo.
We were presented on the main banner (don't hesitate to ask the AppSumo team to prolong your visibility there). After that, Flotiq was placed on the carousel on the main page.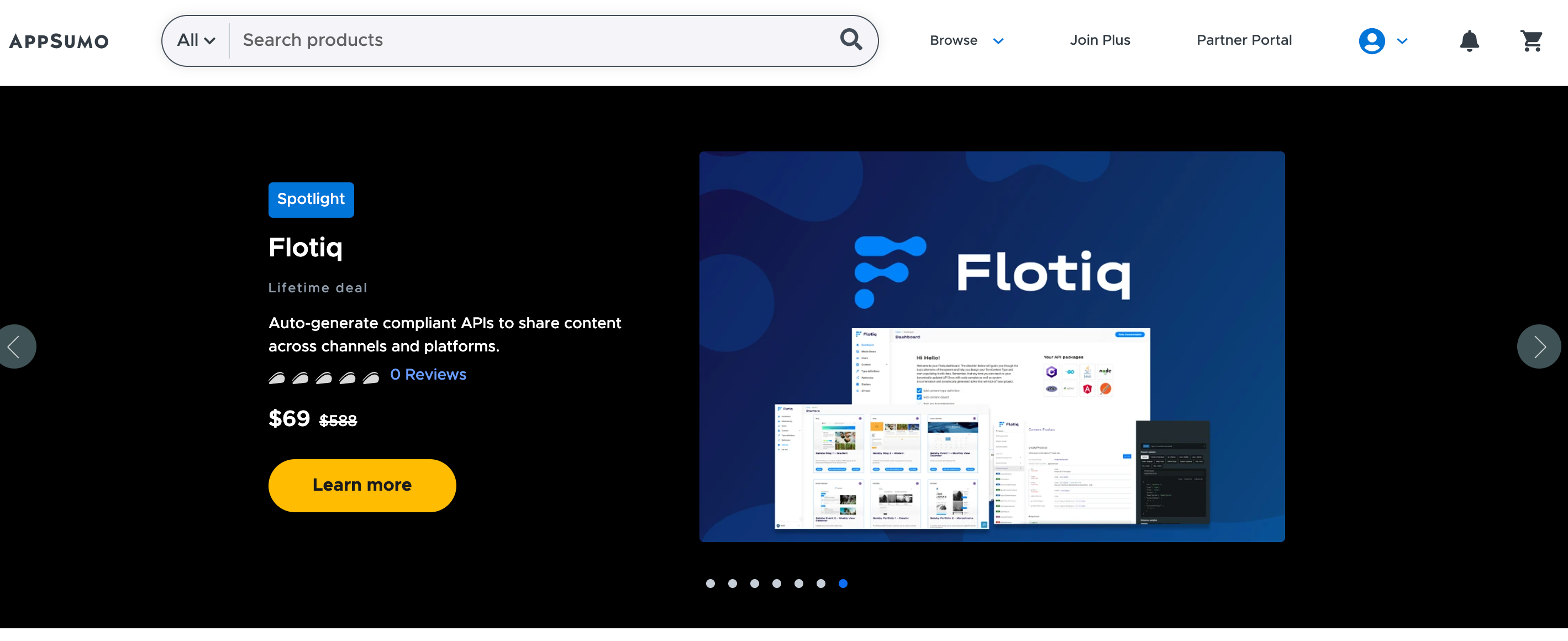 Flotiq on the main banner on the AppSumo page
Several carousels on the home page showcase a wide variety of products. Your graphic must attract attention and encourage recipients to learn more about the offer it represents. In the case of carousels, we also had to negotiate more visibility. And it is okay. You can talk and discuss terms because you must get as much attention as you can, so use the time you have there.
We expected heavy traffic on the first day but didn't expect how serious it would be. We received questions on the deal page, and from the live chat on the main page, people were joining discord. We were discussing Flotiq story, limits and pricing, usage and technology. We had a chat with every kind of Sumo-ling: freelancers, developers, and less technical guys. We had fun and received a lot of feedback, bits of advice and, what is most important, the things our users want to see in Flotiq.
We were trying to be online 24/7, to provide our customers from AppSumo efficient and helpful support, which has been appreciated many times.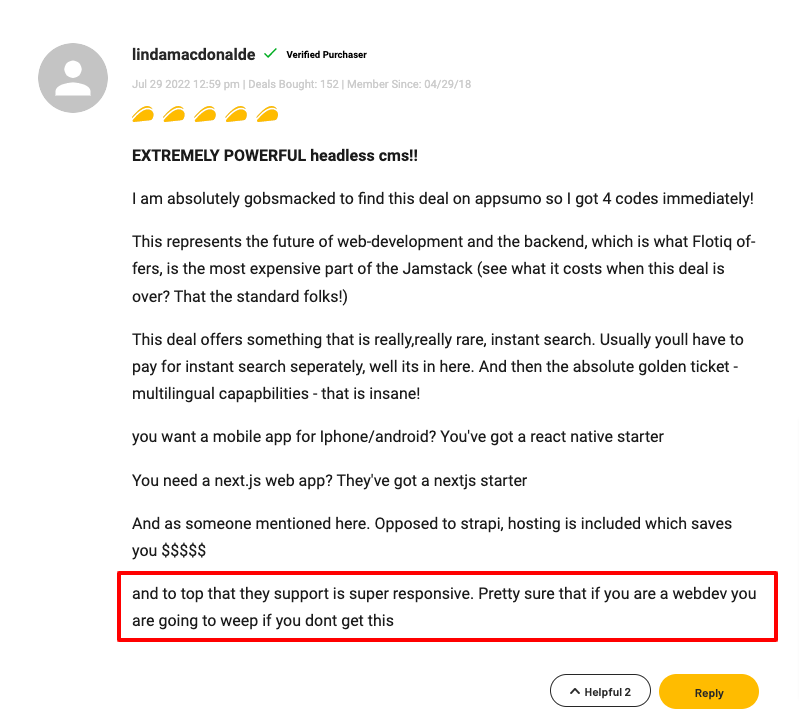 Flotiq review from AppSumo, where responsive support was mentioned
What can we recommend to someone who wants to join AppSumo?
Prepare a roadmap! Sumo-lings often ask about it. For many, it is crucial when deciding on purchasing a product and becoming a part of the community, so everyone can see your progress or suggest ideas or features. Roadmap clearly shows in which direction you want to develop and that you have everything thought out and well planned.
Creating a series of tutorials and documentation - ensures comfortable use of the tool and fast onboarding. Sumo-lings are new to your tool, new to your world. So let them be a part of it by providing documentation and tutorials.
Preparing visual and text materials on AppSumo Product Page - showing the most important and interesting functionalities.
Prepare for the big wave of traffic. You should handle the support process pretty well. Sumo-lings sometimes want to push your tool to its limits, so they need your help, and this is a crucial indicator for them to see If the team on the other side is quick responding, helpful and kind enough to make them loyal users or customers.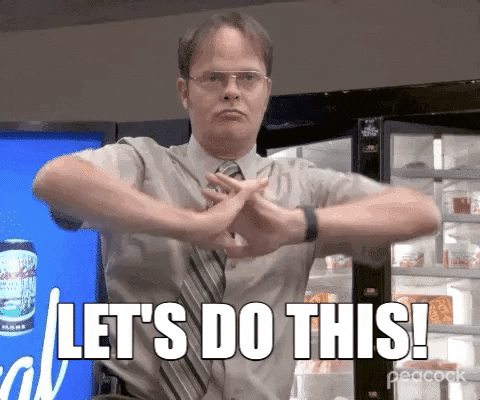 Was it worth it?
There are entrepreneurs for whom the campaign on AppSumo turned out to be a turning point that showed the value of their project and won them loyal customers. For others, the campaign on AppSumo turned out to be a disappointment, showing the weakness of their product or not bringing the profits they expected.
From the perspective of the Flotiq team, AppSumo had a positive impact on us. It made us believe in our own product and brought many new users to our tool. We also gained good opinions on the product and discovered the directions in which it is worth developing it.
Made with Flotiq