17 Jan 2022
Flotiq rebranding and updates
Over the last few weeks, we have been working on a major Flotiq rebrand while also changing the user experience within Flotiq headless CMS platform. We introduced new pages and features, redesigned the interface and usage of certain parts of the platform. Join our journey and read our blog to see what's new in Flotiq.
With the new Flotiq look, we wanted to give it a more professional and enterprise appearance, while maintaining the tool's ease of use and a clear goal:
"Bridging the worlds of developers and content managers, we help them work more efficiently and reach that common flow that gets things done."
Flotiq is an API-first content management platform that works with any technology, framework, and language. Flotiq allows you to automate many processes in an easier and faster way, integrate with many platforms, and more effectively use time and budget for scaling up your business.
Since this is crucial and unique to Flotiq - we wanted the new brand to emphasize this. The new logo and visuals reflect exactly that idea – creating connections between systems, seamlessly integrating them and allowing data to flow.
Follow along to see the summary of our changes and of course, let us know what you think about it!
Flotiq's new updated brand and logo
The design process started with a refreshed version of our "F" Flotiq logo, you will immediately notice how it relates to the key idea behind Flotiq – connect.
See the change in the animation below:
Website updates
The next step was to review the UI elements of the platform in their entirety to have fluid and uniform navigation consistent with our brand. We changed the colours to make it more modern and connected to our updated style as well.
The menu bar is redesigned to be more readable and easier to navigate through Flotiq. Some sections from our old website have their subpages now, with more detailed information about everything you should know.
Now you can use the Resources page to find helpful information and learn how to use Flotiq headless CMS more effectively.
The login and registration pages have been redesigned to be simpler and more streamlined to fit our standards better.

Simpler, modern, intuitive
Changes in dashboard
Although a lot more updates will roll out in 2022 – the dashboard look and feel has already been updated to match the new branding and a few minor usability improvements were added.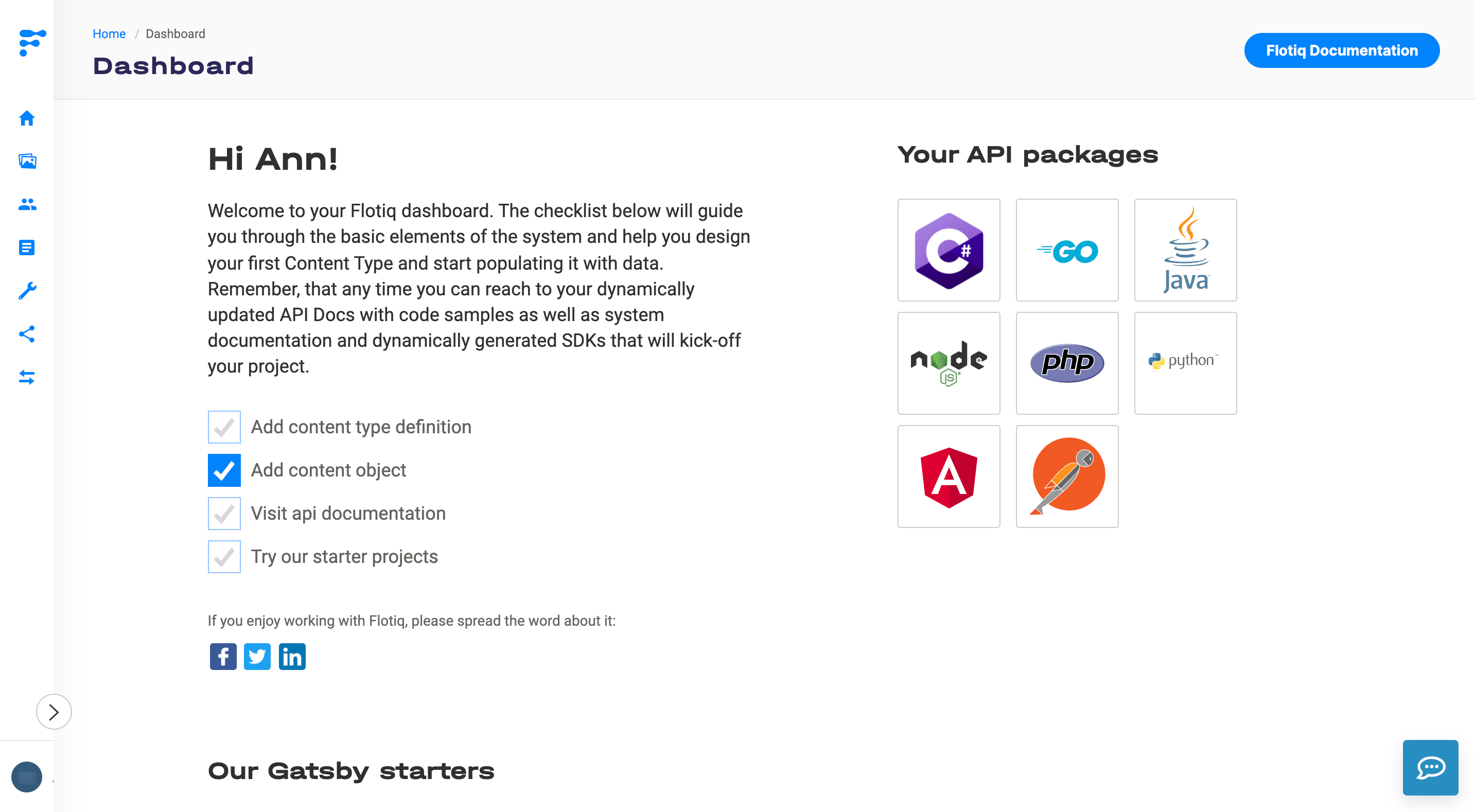 New colors in Flotiq dashboard
New features
Also, we are proud to present new features that we have been working on along with the rebranding process:
Automate Gatsby preview refresh after content updates.
Add a custom event button in Flotiq forms and automate deployments.
Automate notifications from RocketChat.
Add notification for serverless functions that respond to incoming changes.
Easily browse your content using iOS and Android app.
Use our open-sourced code as a boilerplate for your own apps.
Quickly link the app with your Flotiq account with a QR code.
Possibility to choose your own style: to make it with no style or standard Flotiq's style.
Support for recaptchaV3.
Possibility to set the maximum number of files transferred and their types.
The ability to set your texts in the form, i.e. errors in specific fields, buttons, instructions for sending the file.
Possibility to set the domain from which sent forms can be sent.
WHAT'S NEXT?
2021 was full of work, and we have even greater plans for the upcoming year. Here's a sneak-peek into some of the items on our roadmap:
More changes and improvements in our admin panel make it more visually appealing and more comfortable to use.
New integrations for webhooks to make it even easier and faster for you to automate the process.
More Gatsby and Scully project starters.
Next.js and Nuxt.js project starters are coming up soon!
It was a journey, but we know it's not the end. We have more things to share and improve in the near future. Let's build new Flotiq together, share your feedback or proposition at hello@flotiq.com
Stay tuned and enjoy the new Flotiq
Made with Flotiq