22 Sep 2021
Headless CMS API calls cost comparision
Check this article to see how much you will pay for API calls in a headless CMS.
The new update article about API calls limit in 2022 you can read here
Headless CMS plans comparison for API calls
Introduction
When you're using a headless CMS to power your website - you're always doing some API calls in the background to pull your content. In most cases, the CMS providers limit the number of interactions with their APIs and you have to be aware of this quota. If you exceed the number of calls allowed in your pricing tier - your system may stop working!
Below you will find a comparison of popular headless CMS with their API calls limits (if provided by the CMS vendor), available plans, and the most important thing: cost.
API calls per plan table
| CMS | Free Tier | First paid tier | Next paid tier |
| --- | --- | --- | --- |
| Contentful | 2M | 2M+ | Unlimited |
| DatoCMS | 100k | 1M | 2M |
| Flotiq | 2M | 4M | 8M |
| ButterCMS | N/A | N/A | N/A |
| Kentico | N/A | N/A | N/A |
| Magnolia | N/A | N/A | N/A |
| Strapi | N/A | N/A | N/A |
| NetlifyCMS | N/A | N/A | N/A |
| Forestry | N/A | N/A | N/A |
| Sanity | 500k (CDN), 100k (standard) | 15M (CDN), 3M (standard) | 75M (CDN), 15M (standard) |
| Prismic | Unlimited | Unlimited | Unlimited |
Comparision
1. Contentful
Available plans and API calls limits
Contentful plans are split into 3 parts:
Community
Team (Medium/Large)
Enterprise
Contentful gives 2 000 000 API Calls for free accounts, same with additional overages for Medium/Large Team and no limit for Enterprise.

Cost
Contentful charges for Team Accounts, they have 2 plans:
489$/month for Medium Teams
879$/month for Large Teams

2. DatoCMS
Available plans and API calls limits
In DatoCMS user has 4 account type options:
Developer
Professional
Scale
Enterprise
DatoCMS API calls limits are refreshing every month starting with 100k API calls for free developer accounts, rising to 1M for Professional and 2M for Scale plans. Additionally, you have to pay 9 euros more for every 250k extra API calls.

Cost
DatoCMS provides a free "Developer" plan. Professional and Scale starts at 199 euro/month and 399 euro/month, respectively.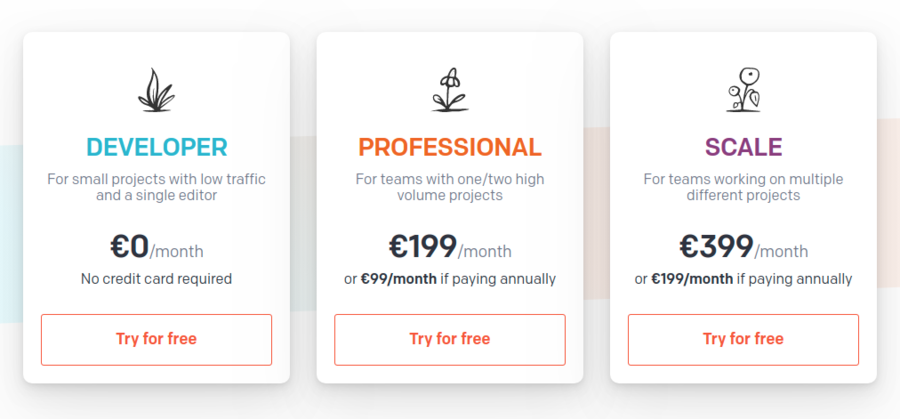 3. Flotiq CMS
Available plans and API calls limits
Flotiq has 4 available plans
Users with a free account have a limit of 2M calls, for Basic users, Flotiq has 4M calls to use, and Pro users 8M monthly calls.
Enterprise plans are priced individually and have no limits on monthly calls.
Cost

4. Butter CMS
ButterCMS does not provide information about available API calls limits.
5. Kentico
Available plans and API calls limits
Kentico is a headless CMS geared mostly towards big projects. They have 3 plans:
Business
Premium
Enterprise
Kentico provides 2M API calls for Business users, and 5M API Calls for Premium per month.

Cost
Kentico provides a free developer account. Paid plans start at $999 for a month, and premium for $1,999. Enterprise is priced individually.

5. Magnolia
6. Strapi
Strapi is an open-source and self-hosted headless CMS, therefore any limits are set up by the instance owner.
7. NetlifyCMS
NetlifyCMS is open-source headless CMS, therefore any limits are set up by the instance owner.
8. Forestry
Description
Forestry provides 4 plans:
Personal
Starter
Pro
Enterprise
Cost
Forestry provides free account. Paid plans starts at $29 per month and ends with custom for enterprise solutions.

9. Sanity
Available plans and API calls limits
Sanity users can choose 1 from 3 plans:
Standard
Advanced
Enterprise
Sanity provides two types of API:
standard API - default, the live and uncached API. This will give always the freshest data but requests are slower. Call limits start from 100k for standard plans, rising to 3M for advanced and 15M for the enterprise.
CDN API - CDN distributed cached API, that will give a very fast response to requests that have been cached. Call limits start from 500k for standard plans, rising to 15M for advanced and 75M for the enterprise.

Cost
Sanity provides free(standard plan) accounts. Advanced cost starts from $199 a month, and Enterprise depends on needs and requirements.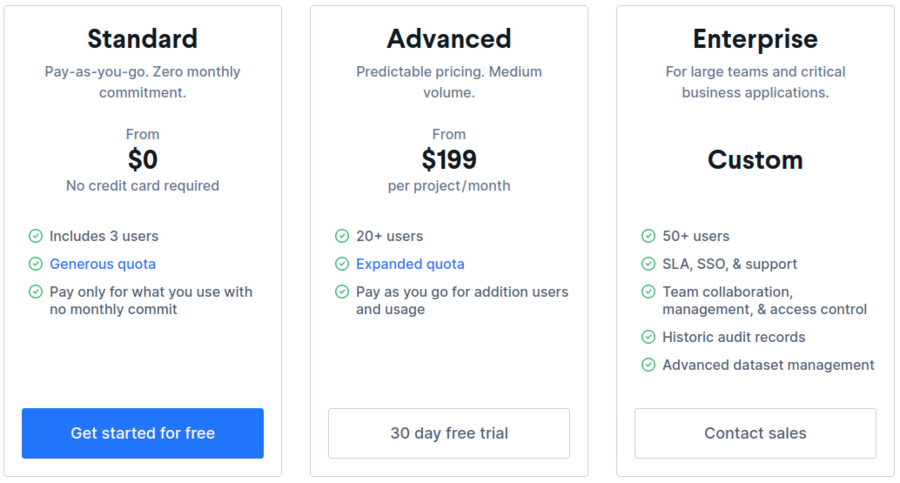 10. Prismic
Available plans and API calls limits
Unlike other HeadlessCMS players, Prismic provides many plans for users:
Community (free)
Starter ($7/month)
Small ($15/month)
Medium ($100/month)
Platinum (500$/month)
Enterprise(custom)
Prismic offers unlimited API calls for all plans in groups above


Made with Flotiq