01 Jul 2022
Headless CMS storage cost comparison - how much you will pay for storage in 2022
Check this article to see how much you will pay for storage in a headless CMS.
Intro
When you create your own website, you upload a lot of assets - images, documents, what have you. If you are using external software like a Headless CMS, there might be a point when you reach the storage limits of your account. Below you will find a comparison of popular headless CMS with their storage quotas (if provided by the CMS vendor), available plans, and the most important thing: cost.
Comparison
1. Flotiq
Description
Flotiq has 4 available plans:
Users with Free accounts have
2K object limits,
20 object types,
200MB of file quota.
For Basic Plan ($49/mo) users have
25K object limits,
50 object types,
5GB file quota.
When you decide to join Flotiq's Pro for $449/mo you will get:
200K object limit,
100 object types,
25GB file quota.
Enterprise plans are priced individually and have no limits in storage.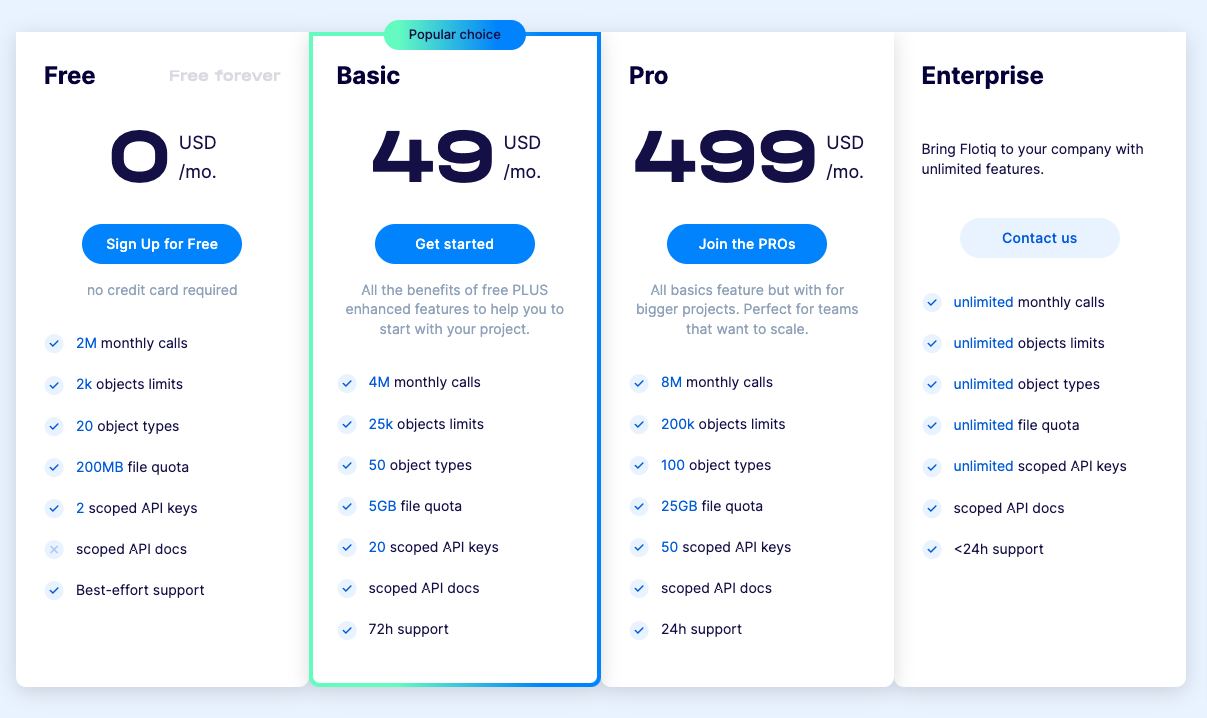 2. Contentful
Description
Contentful plans are split into 3 parts:
Community - free
Team - 489$/month for Medium Teams, 879$/month for Large Teams
Enterprise – personal price

For free account users, Contentful gives .75TB bandwidth with 50MB max asset size. You can have a maximum of 25k (content entries and assets). A space that has one entry and one image have two records. Each entry and asset is counted as a single record, regardless of how many times they are re-used within the space.
Team accounts with medium/large options have .75TB with possible overages. The maximum asset size is set to 1GB with a maximum of 25k (medium team)/50k (large team) records.
Enterprise accounts have 2TB with possible overages. The maximum asset size is also set to 1GB. Records maximum value is custom and depends on needs and requirements.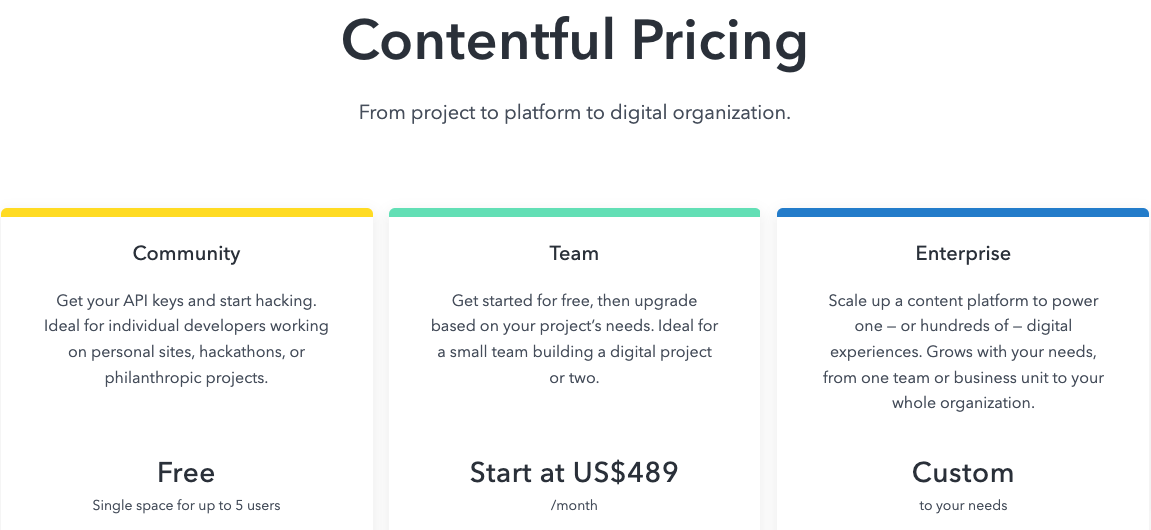 3. DatoCMS
Description
In DatoCMS user has 4 account type options:
Developer
Professional
Scale
Enterprise
File storage is set to 200MB for free users and 500GB for Professional and Scale plans. Bandwidth is set from 10GB/month for free users, 1TB for professionals, and 2TB for scale plan teams. Enterprise option, like in most Headless CMS depends on team needs and requirements.
Cost
DatoCMS provides a free "Developer" plan. Professional and Scale start at 199 euro/month and 299 euro/month, respectively.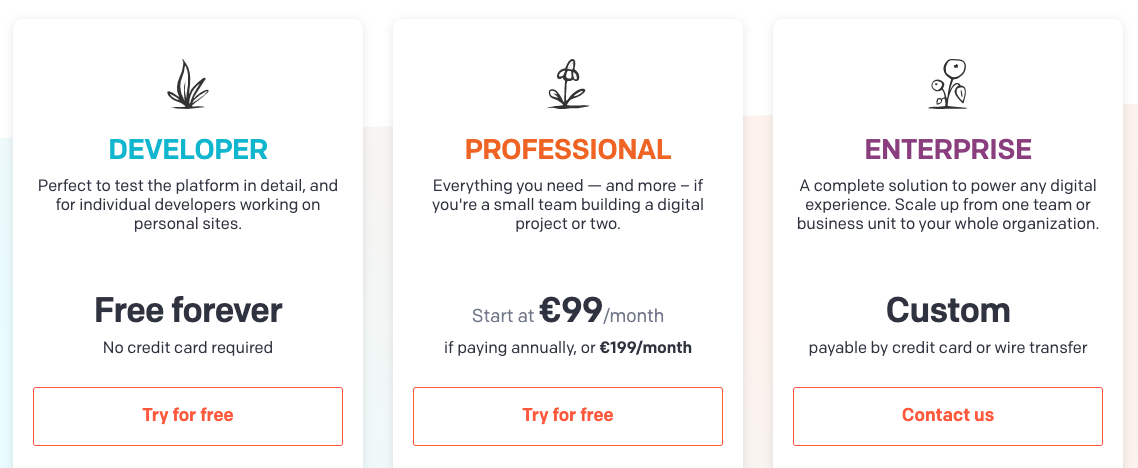 4. Butter CMS
ButterCMS does not provide information about available storage and asset sizes.
5. Kentico
Description
Kentico is a headless CMS geared mostly towards big projects. They have 3 plans:
Developer
Scale
Enterprise
Asset storage begins with 2GB for the Developer plan and ends with at least 200GB for Enterprise.

Cost
Kentico provides a free developer account. Paid plans start at $2,499 for a month, and the enterprise is priced individually.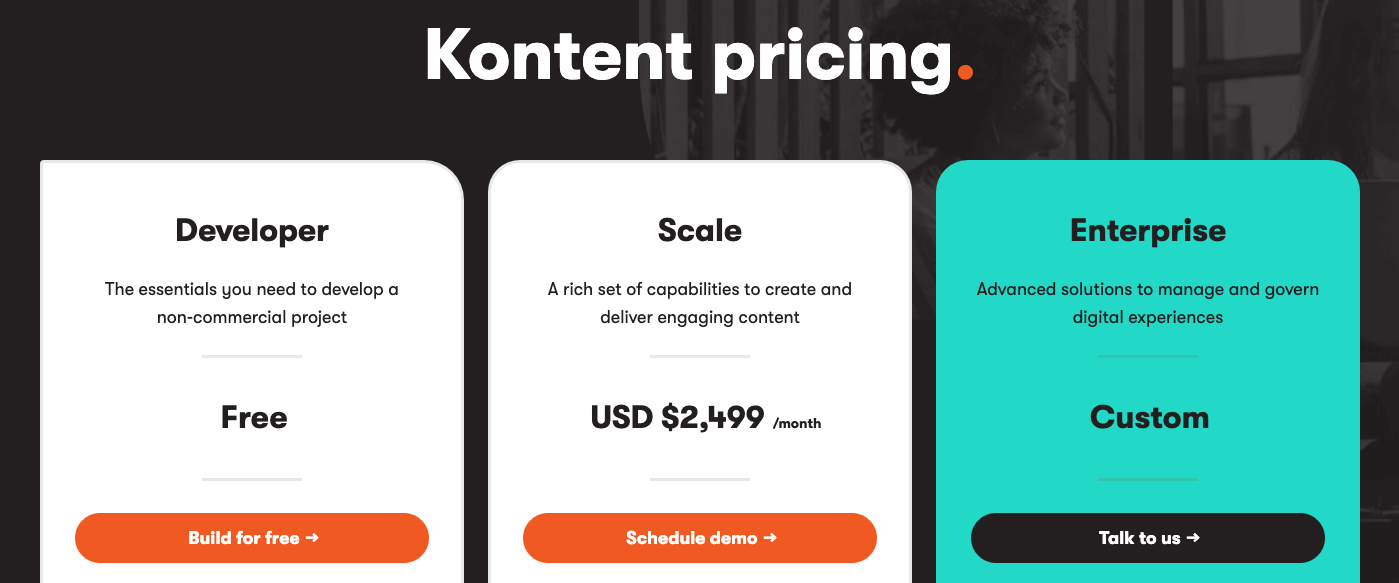 6. Magnolia
MagnoliaCMS does not provide information about available storage and asset sizes. You can download the community edition for free. Other options are available via the demo request form.
7. Strapi
File Storage & Media library are included in Strapi core modules. Strapi is an open-source and self-hosted headless CMS, therefore any storage limits are set up by the instance owner.
8. NetlifyCMS
NetlifyCMS is open-source headless CMS, therefore any storage limits are set up by the instance owner. You can deploy your instance on Netlify, but you must be aware then of their bandwidth limit:
100GB/month for Free accounts
1TB/month for Pro accounts
1.5TB/month for Business accounts

9. Forestry
Description
Forestry provides 4 plans:
Personal
Starter
Pro
Enterprise
The user is responsible for selecting his own media storage (S3, Cloudinary, or other).
Cost
Forestry provides free accounts. Paid plans start at $29 per month and end with custom for enterprise solutions.

10. Sanity
Description
Sanity users can choose 1 from 4 plans:
Free
Team
Business
Enterprise
Free users get 5GB of assets storage, which heavily increases for Business (500GB), and Enterprise(custom) plans.

Cost
Sanity provides free (standard plan) accounts. Team cost starts from $99 a month, and Business from $949. The enterprise tier depends on needs and requirements.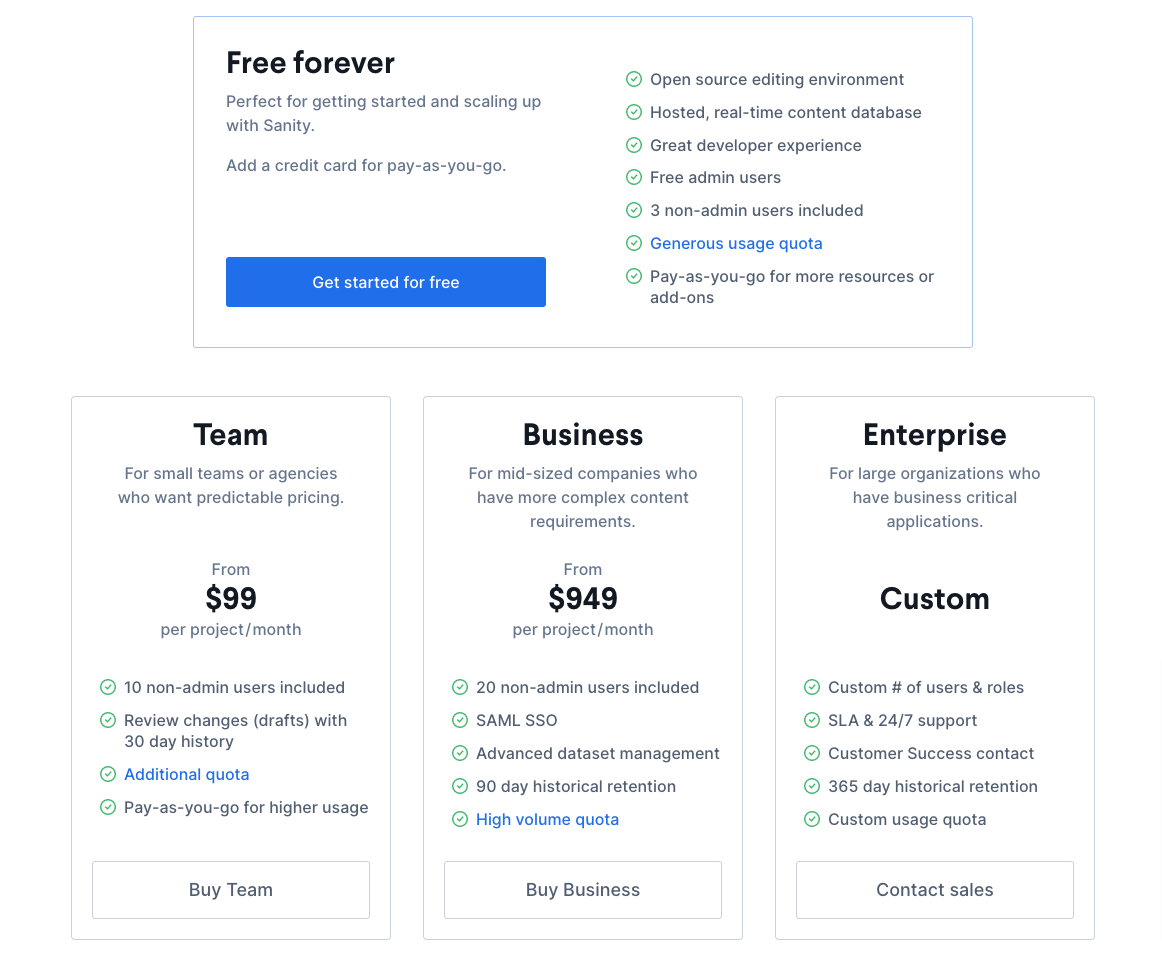 11. Prismic
Description & Cost
Unlike other HeadlessCMS players, Prismic provides many plans for users:
Community (free)
Starter ($7/month)
Small ($15/month)
Medium ($100/month)
Platinum (500$/month)
Enterprise(custom)
Enterprise plan - depends on needs and requirements
There is relevant information about storage and asset limit. As there is in their pricing table - assets are unlimited, whatever that "unlimited" means.
According to this article, the maximum image size is 10MB, and any other filetype - 100MB.
Made with Flotiq